What is EPR?
Extended Producer Responsibility is the strategy to increase the interests of different Brand-owners, Producers, and Importers in producing various Environment-Friendly products. Management of all the costs related to Environmental Waste and for the production of different products from the product's Validity to its Market Price.
Extended Producers Responsibilities (EPR) are the responsibilities that are managed by the government for Post-consumer Waste Management. It is generally for different Brand Owners, Producers, and Importers who are obligated to follow the guidelines of Extended Producer Responsibilities (EPR) provided by the Central Pollution Control Board (CPCB).
Definition
               EPR uses economic inducements for encouraging Manufacturers in developing Eco-friendly products by holding Producers responsible for the budget costs of managing their products at their validity or end of life. This policy reach differs from product administration, which shares the responsibility of keeping records of a product, in that it strives to relieve local governments of the costs of managing selective priority products by the demand of manufacturers to incorporate the cost of recycling within the product price. EPR is based on the principle that manufacturers mostly Brand-owners have great control over product design and marketing and have the greatest ability and responsibility to reduce toxicity and waste in the environment.
Timeline

Recycled Plastic Manufacture and Usage Rules (1999):
Rules for the Manufacturers and use of recycled plastics carry bags and containers.
Plastic Waste Management and Handling Rules (2011):
 Rules directed Municipal Authorities to set up Plastic Waste Collection Centers with financial support from the producers.
Plastic Waste Management Rules, (2016):
Replaced 2011 Law holding producers responsible for managing plastic waste in the country.
Draft Guideline Document- Uniform Framework for EPR (2020):
Guideline to make brand and geography neutral national framework.
Draft Notification to make Amendments in PMW rules 2016 (11 March 2021):
The proposal of the prohibition on Single-use Plastic on a PAN India basis.
SOP for registration of PIBOs under Plastic Waste Management Rules 2016 (23 March 2021):
Proposed online registration for PIBOs.
Plastic Waste Management Rules (2022):
The use of Single-use Plastic should be banned or reduced and Recycled Plastic should be held into consideration of using PAN India.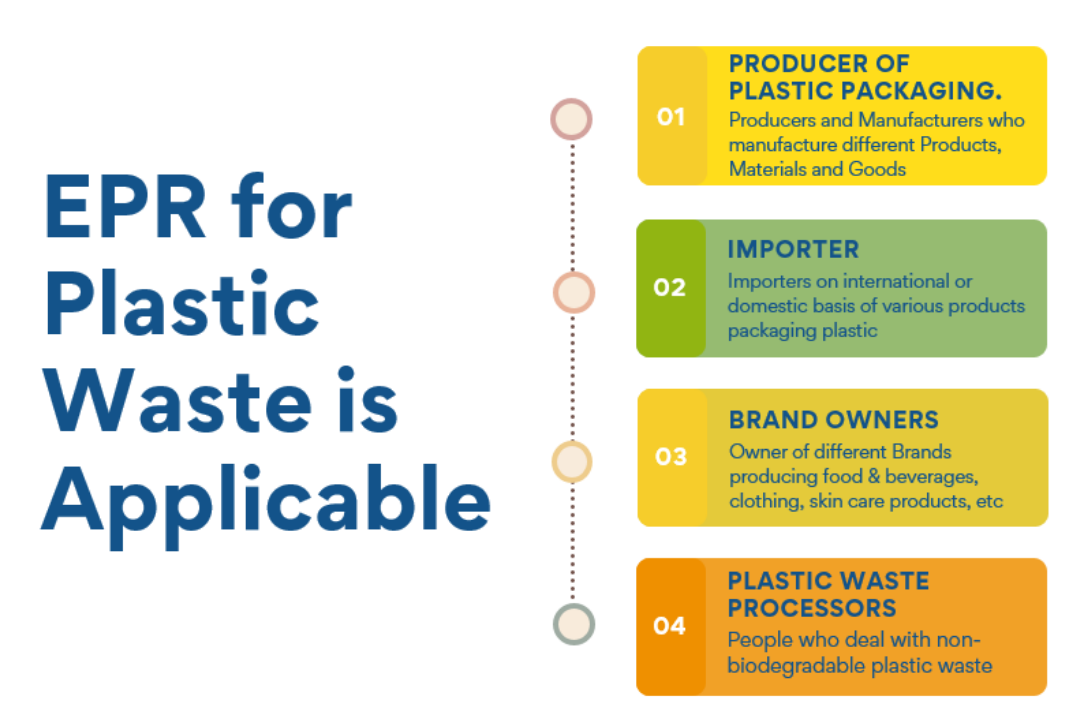 EPR for Plastic Waste is Applicable for:
Producer of Plastic Packaging.
Producers and Manufacturers are those who manufacture different Products, Materials, and Goods. They manufacture different products and materials like food products, skincare, daily household products, sanitary products, etc.
Importers of all imported plastic packaging or Plastic packaging of imported products.
Importers import different products or goods on an international and domestic basis. Importing various plastic packaged products, goods or Importing Plastic Packaging is their main business.
Owner of different Brands/Companies producing food products, beverages, clothing, skincare products, daily household products is called Brand-Owners.
Plastic Waste Processors.
People who deal with Non-biodegradable Plastic Waste are called Plastic Waste Processors. Plastic Waste Processors also dispose of hazardous as well as chemical waste.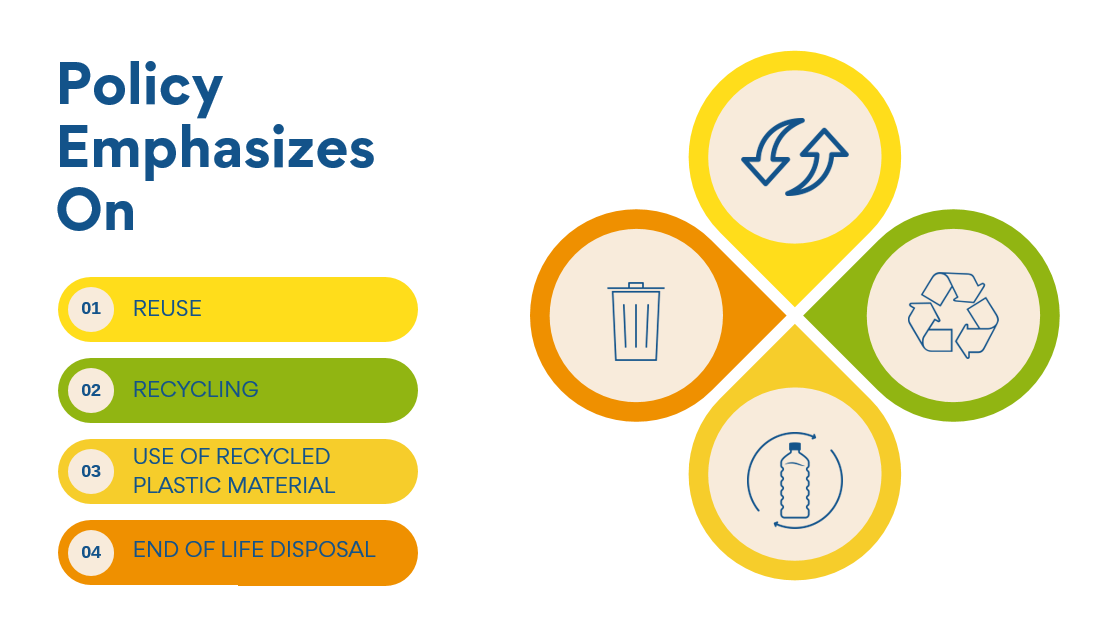 Policy Emphasizes on:
The obliged entities should put efforts into trying to Reuse or Cogenerate different sources and also resources as much as possible. The Entities can reduce the use of virgin plastic or can use the waste as an energy resource during production.
According to the guidelines of EPR by CPCB, the entities must Recycle their Plastic Packaging Waste and help in managing the Plastic Waste produced by them. They can also hand over the Plastic Waste to the respected Plastic Waste Recycling Companies.
Use of Recycled Plastic Materials.
All the mentioned Entities should respectfully manage and attain to use the Recycled Plastic Products or Materials. The use of Recycled Plastic products would help in cost-cutting and would manage to save different resources.
All the entities should follow the guidelines, provided for the EPR by the CPCB for management and Disposal of the End of Disposal Waste or Waste Materials, and should handle it over to the respected Plastic Waste Processors or the End-of-life Disposers.
Categories of Plastic Waste Covered under Policy.
Solid or Rigid Plastic Packaging.
Rigid or Solid structured Plastic contains High-density polyethylene (HDPE) and Polypropylene (PP). These HDPE and PP are used across the world for making a huge variety of products. Products like Plastic packaging sheets, different automobile parts, for making different household products, and even fibers and textiles are made with these Solid plastics.
Stretchable or Flexible Plastic Packaging.
Polyvinyl Chloride, also known as PVC, is the third most-produced plastic globally. Polyvinyl Chloride is produced in two forms solid and stretchable. It is used for making covering sheets for food and bank transaction cards such as Credit cards, ATM cards, and Debit cards.
Multilayered Plastic Packaging.
Different layers of low-density Plastics and Metals are used for making this Multi-layered Plastic. Multi-layered plastic is mostly used for making packages and using it for food packaging purposes. This Multi-layered plastic packaging is a very useful product for storing food, beverages, and other products.
Plastic Sheets or Polythene Carry Bags.
Low-Density Polyethylene (LDPE) is a stretchable and flexible type of plastic it is mostly used for making plastic sheets, plastic packaging films, plastic wraps, etc. Low-Density Polyethylene has a low density, so it is mostly used in manufacturing dispensary bottles, containers, and washable bottles to make carry bags.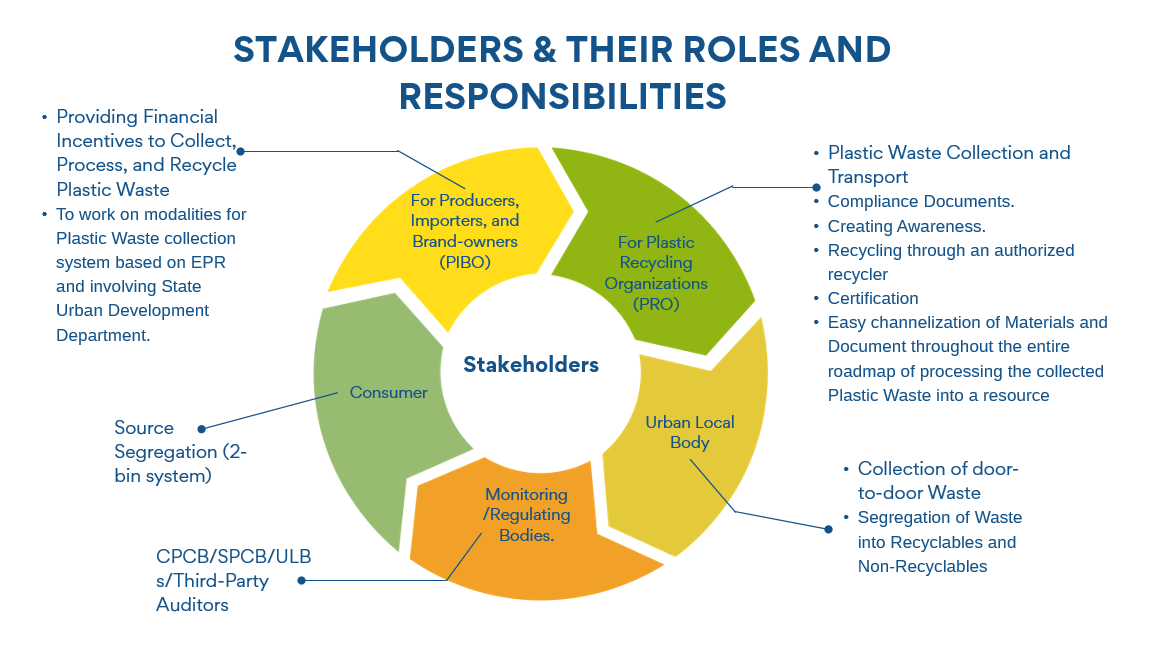 Stakeholders & Their Roles and Responsibilities:
For Producers, Importers, and Brand-owners (PIBO)
Providing Financial Incentives to Collect, Process, and Recycle Plastic Waste.
To work on modalities for Plastic Waste collection system based on EPR and involving State Urban Development Department.
For Plastic Recycling Organizations (PRO)
Plastic Waste Collection and Transport.
Compliance Documents.
Creating Awareness.
Recycling through an authorized recycler.
Certification
Easy channelization of Materials and Document throughout the entire roadmap of processing the collected Plastic Waste into a resource.
Urban Local Body
Collection of door-to-door Waste.
Segregation of Waste into Recyclables and Non-Recyclables.
Monitoring/Regulating Bodies.
CPCB/SPCB/ULBs/Third-Party Auditors.
Consumer.
Source Segregation (2-bin system).

Registration and Authorization Procedure for the Entities:
The registration process is as follows:
Step 1: Registration with CPCB/SPCB.
Step 2: Waste Collection by the authorized Waste Management Agency.
Step 3: Present relevant documents as proof for Waste Collection.
Step 4: Quarterly report submission to CPCB by Brands.
Step 5: Annual report submitted by Waste Management Agency to Brands.
For more details, check our website.
www.shaktiplasticinds.com